Double shopping time than usual …
After a lovely run at Normafa I decided to go quickly to MOM Park and get some shopping done to support the 21 days vegan challenge. What can I say? It took me more than double time, running to 3 different shops (Müller, dm and Spar) to get what was on my list.
Found some promising sweet vegan things. I have already tested 3 of them, the hazelnut bar taste actually almost like Ferrero Küsschen and also the white chocolate with strawberry is not bad at all. The peanut bar I would probably not buy again.


#DAY3
#BREAKFAST
You might say borring, but there was only little time this morning and we got out of bed a bit too late. So bread from Rita's Kenyermanufaktur, nut spread and jam would do. Oh, and I did not mention it before – for my coffee I currently put some of the alternatives milk but also add some "Rice cuisine for cooking" to give it a more creamy appearance. Ok for now, but can be still improved. 😉

By the way, this morning we tried another rice milk. I would say approved but need to check again the colour. First impression was really good concerning texture, color and taste ;-). Talking about this one …

#LUNCH
Since I went shopping I already had made a plan what I wanted to do for lunch. Cabbage with red onions & dates and using the leftover quinoa of yesterday to make another salad. The cabbage was very delicious, added some rice cuisine for cooking as well. The quinoa salad was not a big hit. I should have rather done yesterdays version instead of trying to adapt this one with a lot of phantasie and the ingredients given at home. 😉 At least it looked nice!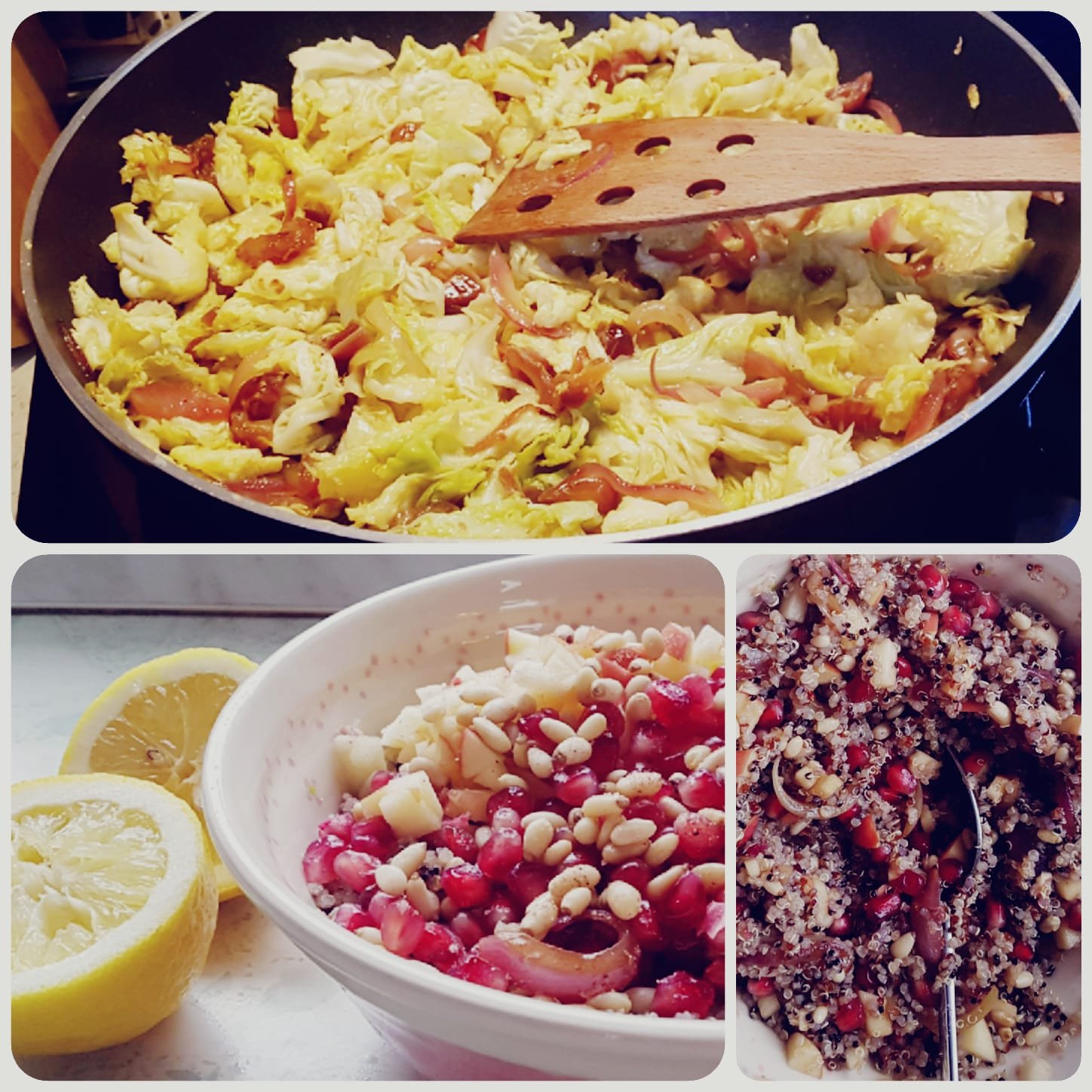 #DINNER
Another night out for dinner. Usually that would be not an option for 2 days in a row, but it was promised as birthday dinner. If you have either kids or / and you love turtles you should come and see the place yourself. Tortuga etterem is a bit outside of the center of Budapest but worth the visit to make your little one happy. If you are vegan or on a vegan challenge maybe eat before or postpone your visit. There is actually non vegan dish in the menu. I took burritos filled with veggies. They were served with cheese on top. Of course I took it down, but the dish itself was not too healthy as it was served with potato chips as side dish.