But it does not mean that I stopped eating and preparing vegan dishes.
#BEETROOT WITH TOFU & COCONUTCREAM & CILANDRO
So already 2 days after the official ending of the challenge I did a very delicious beetroot dish. Starting point was – it should be with beetroot, the leftover tofu had to be used as well as the coconut cream. So that is what I did: caramelised red onion and spring onion, added tofu and let it fry a bit. Than put beetroot – which I had baked in the oven before – and added coconut cream, freshly squeezed lemon juice and cilandro, salt & pepper.
#BEETROOT SALAD
As there were 2 beetroots leftover I made out of them a nice salad using the beetroot, oliveoil, salt & pepper, acete balsamico. And being honest, I topped it with my favourite cheese from the veggie man and spring onions. Very yummy. Leave the cheese away and it is vegan.
#CARROT MUFFINS
My girls had a playdate on Friday and I felt instead of having sausage or something like that, they should have something healthy. Spontaneously I decided to make some muffins using: carrots, apple, cinnemon, vanilla aroma, a little bit of brown sugar, oats and oat flour. Unfortunately I did not leave it long enough in the oven, but I found them pretty tasty given the fact they were supposed to be a healthy :-). Kids did not fancy it too much, but when I fried the leftover muffins the next day my big one became a fan. So lesson learned – also food needs a proper promotion and marketing towards kids and husband.
By the way, I made the lentil soup again and showed my family how to eat it with freshly made salad. The little one and me liked it a lot, the rest got unfortunately not yet really convinced.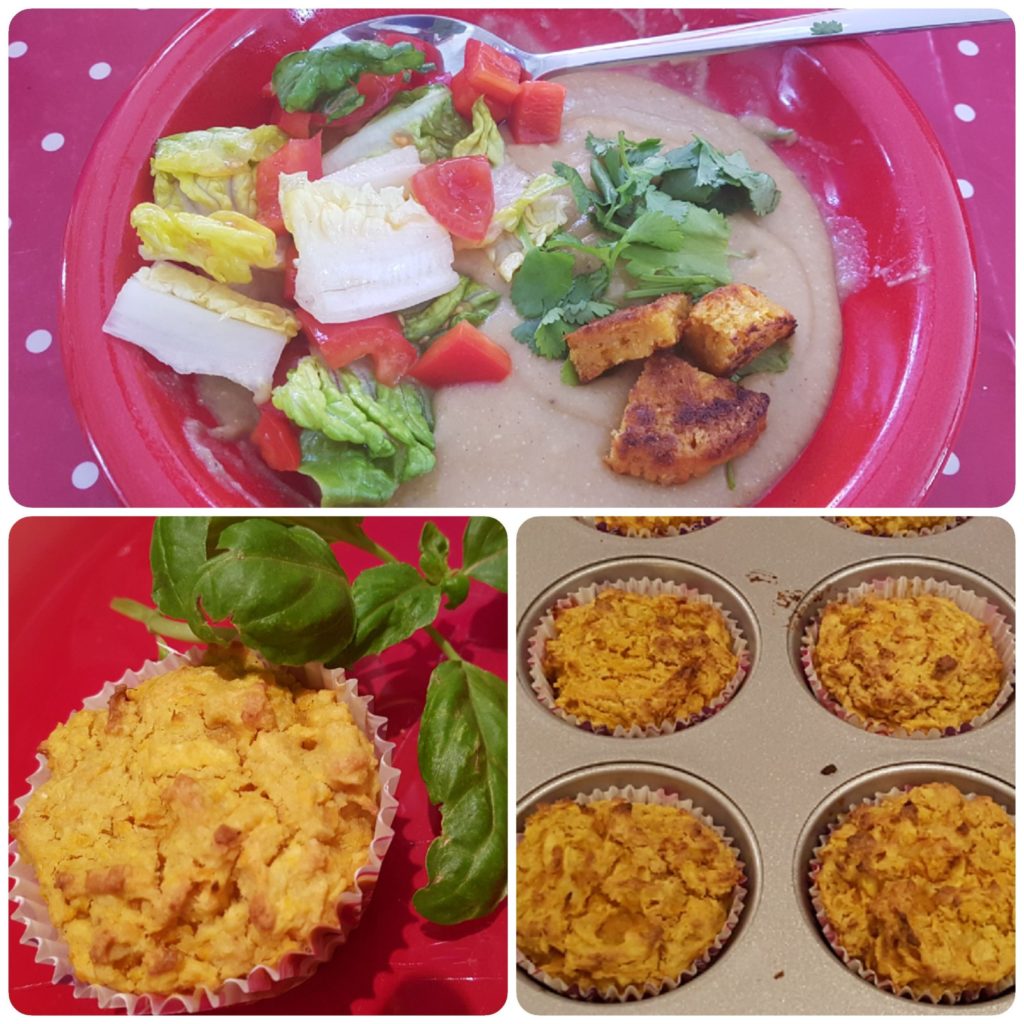 #VEGGIES WITH RICE
We already eat quite regular Zucchine with rice. As I did not have enough Zucchini I did a little variation using 2 caramelised onions, 2 cloves of garlic, 1 red pepper, some cherry tomatos, tomato purée, honey, lemon juice, a bit of honey mustard, salt & pepper. It turned out very nicely. For non-vegans add some Feta cubes on top which make that dish even richer.
#RASPBERRY BANANA SMOOTHIE
This smoothie become very popular the last days amongst my girls. I also had to made it when their friends were over. They actually asked me to give the recipe to the moms that they could do it too. Ingredients: 1 banana, handful frozen raspberries, almond milk, a bit of vanilla aroma, agave syrup. Super rich!
#FINDINGS
Tried a new product – a caramel dessert from the brand Hideg Nyalat. The creme is nice, but the crumbs that are also part of the cream have no added value. They have no real interesting taste – so in total I would say the almost 900Ft can be better invested in something else, e.g. in their delicious jogurth.