Happy that Sunday lunch was a hit …
#BREAKFAST
After no proper Sunday family breakfast last week I was really grateful to have one today. We still had very nice bread rolls from Germany which I took out of the freezer. Also bought myself a new veggie spread – Toskana -from dm. I can really recommend this one and will surely buy it again. Apart from this we had the usual jams, honey, almond, cashewnut and nougat spread available.
#LUNCH
For todays lunch – which I felt should be with Mie-noodles, veggies and coconut milk – I could not really find a great recipe. So gathered some ideas here and there and finally did the following. Sliced spring onion and one red onion, red pepper and carrots. Washed one glas of bamboo stripes and let it drain. Put the mie-noodles into warm water to let them soak. Caramelised the red onions with some coconut oil and brown raw sugar, added the carrots and let it fry a bit. Later put the bamboo stripes and spring onion, stired, added the mie-noodles, stired again and than added coconut milk and some coconut cream, soy sauce and teriyaki sauce. My husband had to try it and he really liked it. Also the kids were big fans and said why I had not done it before. So full success – a very nice vegan dish!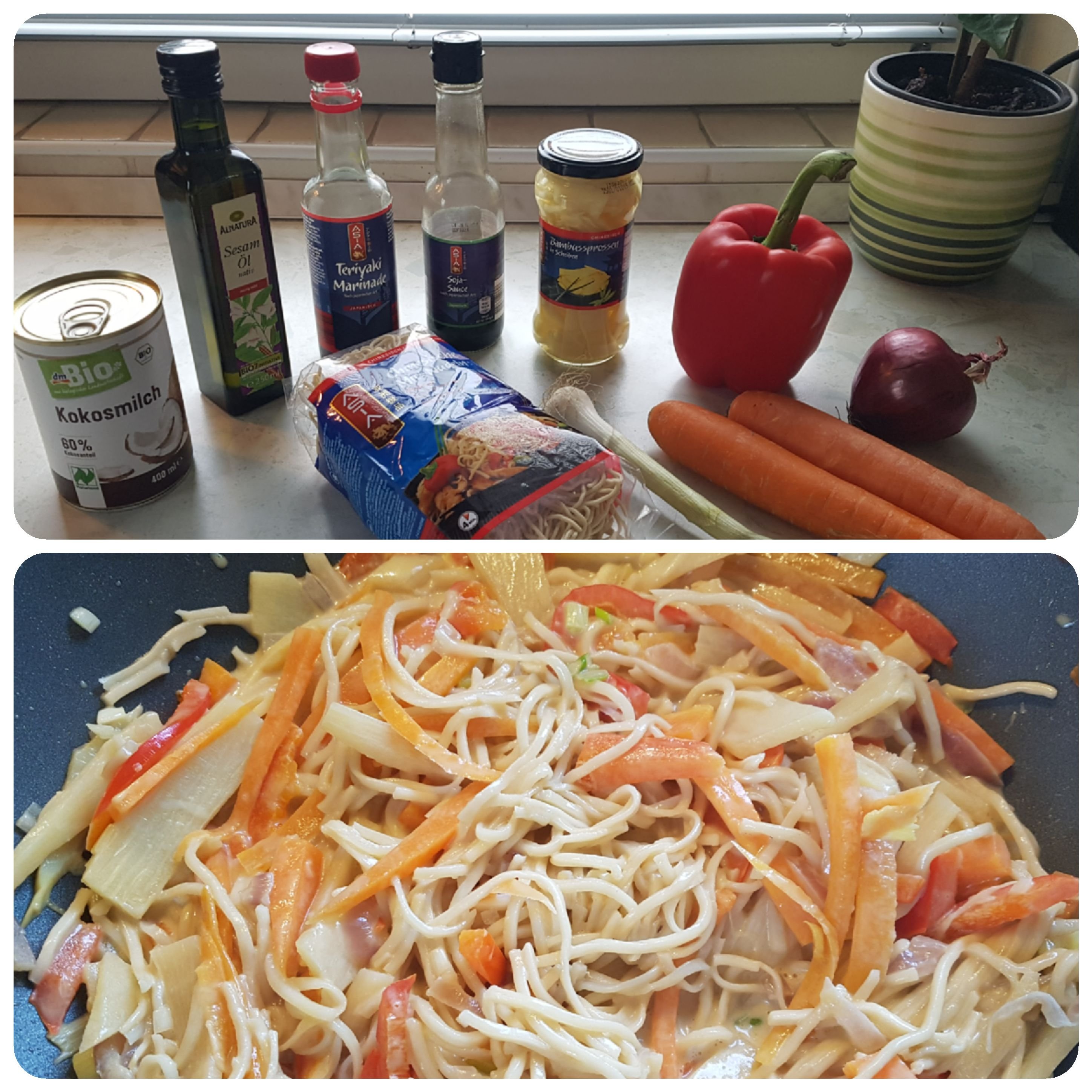 In the afternoon the girls and I gave the muffins another try. Tasty as last time, rose a bit in between but unfortunately sticked again to the paper. I think I need to buy a muffin form and than put them on the grill and not on the baking tray.
#DINNER
Our dinner was a mixture of leftovers from lunch today and some freshly made cauliflower from the oven following this recipe. Also prepared a jogurth dip for it for the non-vegans and I dipped into some coconut cream. It was really yummy. Unofrtunately I forgot to take a picture. Surely will do it again soon as it is so quickly prepared and served.