Coffee tastes best at home …
… at least at the moment. I have to admit going out or strolling through the city is not the same fun if you are on a vegan challenge. We wanted to go for a coffee and decided to step into a boring Costa place as we assumed chances are higher to find coffee with an alternative milk there. We did and I decided for Latte macchiato with almond milk – but I am very sorry to say – that was not tasty at all. So a regular Latte is for sure something I am really looking forward to!

#DAY19
#BREAKFAST
Saturdays are cereal days – so that's it what we had. Me personally had the self-made cereal with some banana and frozen rapsberries and almond milk. Kids has some honey pops from dm with some spelt flakes and fresh fruits as well.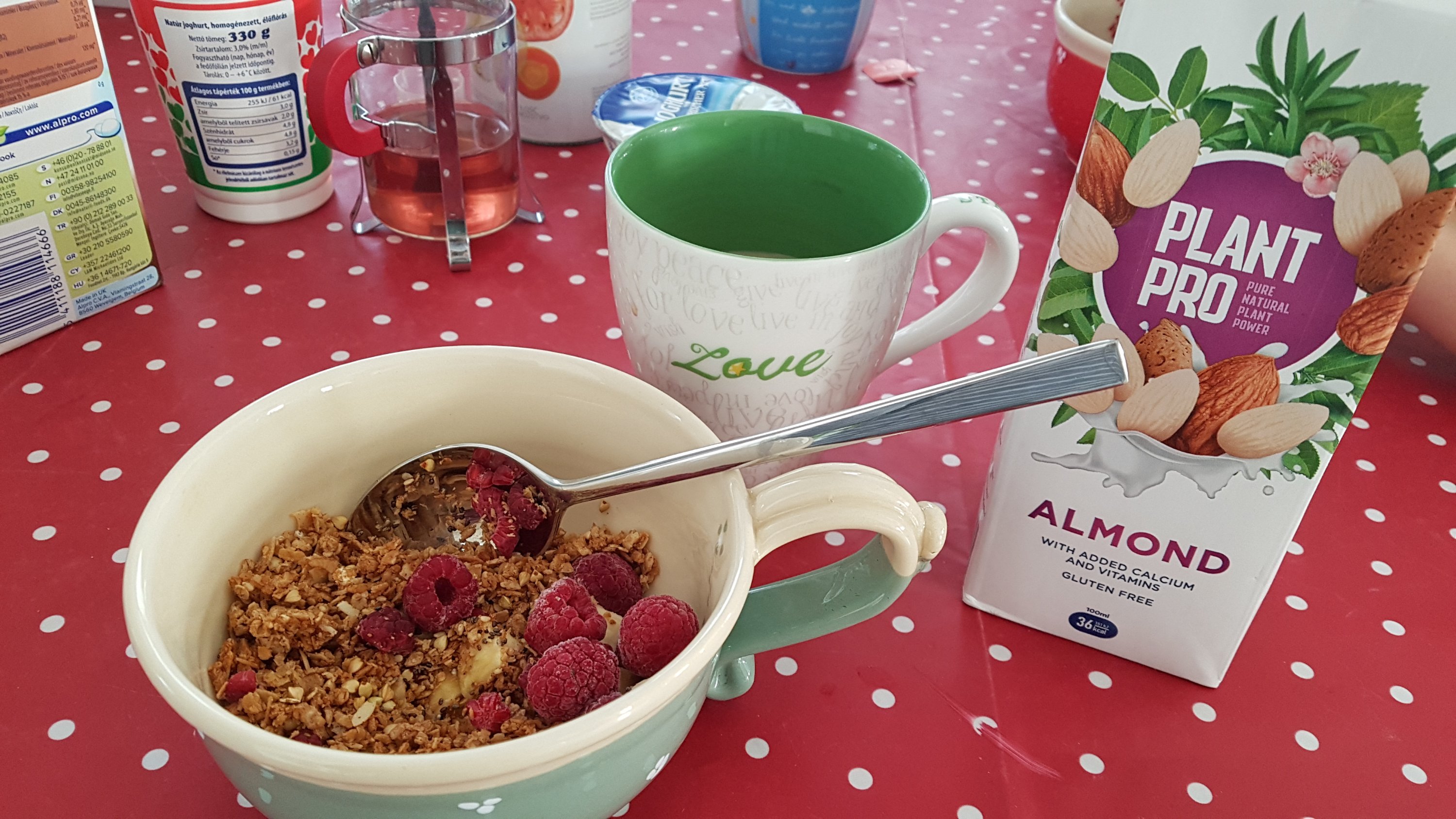 #LUNCH
Preparing lunch turned into some stressful moments even so there were not sooo many things to prepare. We had sweet potato fries with a sour cream dip for the non-vegans and a burger. For the burger itself I used "Gemüse Bratling" (veggie patties) from dm, prepared some salad leaves, tomato and red onion slices and warmed up the burger rolls. Further I was really craving for the BBQ sauce which I had made last week. Unfortunately this time it was not as delicious as last time.
I was really a bit worried if my family would approve it, but even my husband enjoyed and said we could have those kind of burgers again soon.
#DINNER
There was actually no real dinner just some snacks and wine. After having coffee at Costa we walked a bit through the city center enjoying the atmosphere Budapest has to offer. We actually wanted to finish with a drink at St. Andrea Wine Bar, but they were not flexible enough to host us so instead we ended up at Kiosk. We had some wine, the cheese platter which came with some delicious crackers and a bowl of olives. Of course I did not eat the cheese but had some of the decoration – waltnuts, pumpkins seeds & grapes. Back home I also snacked a tiny bag of those Eat Real Quinoa Chips which you can buy at dm.